Afternoon Tapestry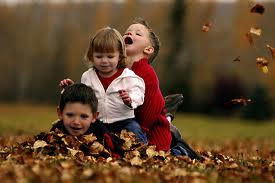 Mottled leaves drift and spin, brightly flickering through clear, brisk air as gravity and wind play their autumn game. Our children run and shriek, caught in the wind-blown excitement of the first Canadian front. Its currents whisper sweet promises of candy apples and ghostly costumes, holiday feasts and velvet dresses, cold cheeks, muffs, and cinnamon mingling with buttered brown sugar. And something more, I think, allowing a stillness to settle into my mood. On days such as this, children reveal truths so quiet and subtle they often go unnoticed. I resolve this afternoon, to listen.
Our youngest daughter, Lauren, searches through piles of leaves for hidden treasures. She brings her finds inside and lays them across the oak table in our kitchen. We peruse them one by one: a maple's brilliant red star, a burning-orange crepe myrtle leaf, brown sycamore hands, a tallow's purple heart and one simple green leaf now prized for so persistently holding onto its summer color. We delight in their variety: flocked and papery thin, brown-crackle thick, waxy, serrated, smooth, perfect oval. It is impossible to choose a favorite.
Looking up from the table, we spy visitors through the bay window, a quail couple we've observed since early spring. This time they've brought their brood. Heads bob and tails wiggle as they promenade through the yard. "Oh, cute! Look how many!" We rush to count – nine, eleven, twelve . . . twelve babies! "Oh, no!" One is going off on its own. Our hands flatten against the window panes and we hold our breath, but the mother quail is no slacker. With the crispness of a drill sergeant, she runs after her errant child and nudges it back in line. Our lungs fill with air.
All summer long we have thrown offerings onto the grass – honeyed cereals, peanut butter and jelly crusts, apple slices – and the birds have flocked. Fierce blue jays, conservative cardinals, vivid tanagers, shy brown thrashers, territorial mocking birds, nervous sparrows and the tyrannical crows who brazenly rule our backyard world, we've come to know them all, and to delight in the beauty of their colors and the vagaries of their personalities. They are as unique as snowflakes, as diverse as the leaves.
The quail patter across the street into the woods. We turn away from the window. Each family member follows his personal whim. I pick up a book, make a cup of espresso and choose turbanado sugar for its molasses punch. The turbanado is kept on a shelf in the pantry between the maple sugar we prefer for French toast, and the delicate confectioner's sugar we sprinkle on fruit fritters.
Five-year-old Anthony decides to draw a Martian city. He does a cursory inspection of the art shelf before snubbing the pack of sixteen markers and reaching for the box of sixty-four crayons. He wants his paper world to hold all possibilities.
Ten-year-old Kathleen heads out of the door on a bug safari, clutching a new collection case. The set is very official looking, sporting a magnifying glass, a net that closes with an impressive snap, and eight or ten clear plastic sections where budding entomologists can separate their discoveries by category. But soon Kathleen is back, rooting under the sink for a large jar. She leaves the institutional bug zoo on the table. "The bugs look lonely and scared in that thing." She hurries back outside.
Squatting on the patio, she carefully crafts a small habitat in a mayonnaise jar: blades of grass and earth, twigs and leaves, a bottle cap with water. Into this mini-Eaden she places a caterpillar, a moth, several roly-polies, a few ants. It is a congenial group. The caterpillar snacks on leaves, the ants and roly-polies explore, and the moth lights spread-winged, resting on a stick.
My husband, Jim, and our son, Matthew, the twelve-year-old fisherman of the family, sit at one end of the oak table plotting strategy for tomorrow's fishing expedition. Should they try bottom fishing from a dock, patiently waiting with lowered fiddler crabs in hopes of capturing the elusive sheepshead? Or should they try surf-fishing for mackerel? Unable to resist the lure of a good fight, they finally decide to live-line for shark. Eternally optimistic, we all smile and accept on faith their promise of fried shark steak for tomorrow's dinner.
Sipping coffee, watching birds dart through raining colored leaves, and surrounded by the quiet hum of our blooming children, I discern a simple truth: Children are joyous because their hearts are open. Open to colors and cultures, opinions and tastes, the diversity that weaves texture into our lives. They stretch and grow by reaching for each new experience, embracing life without preconception.
They see beauty in the curve of an Asian forehead as it slips down into a small and graceful nose. They know that sunlight on black skin releases marvelous colors, like rainbows from a prism, and that people, like birds, and plants, and moths, are unique and precious because they are heterogeneous.
Children know that separated by category, we are as directionless as the wind-scattered leaves, as dull as a box of white crayons, as frightened as a moth in a glass cage, but gathered together, we are as full of promise as an early morning in fall.
First Published in Lessons From Our Children