An Ordinary Passion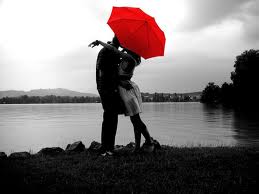 Two people in love broke up today. I've watched their relationship deepen through years of friendship and work, holidays and travel, pain and holding on when life hurts. They never argue. They get each other's humor. They want the same things: family, children, a future together.
But there are separate careers ahead of them and years apart, and suddenly love doesn't seem like enough. Rational heads have prevailed. Long-distance relationships never work. The decision is a no-brainer.
That's the difference between our children's generation and ours. My husband and I made a lot of mistakes, but there was one crucial decision we got right. We fell in love and made that relationship the thrust of our life. We still went for our dreams. Jobs were important, and family and friends, but our relationship? That was our keystone and we put no one and nothing before it.
Breaking up was not in our vocabulary.
It's much harder today because our children set such high standards for themselves. Both must have careers, and neither must compromise, and it can't be just any career, they must find and follow their passion.
Passion. They fling that word into the air like it is nothing, like it is ordinary, like it can be ascribed to a job and owned by common people.
A wise woman once told me the purpose of a job is to make money so you can spend the rest of your time doing what you really enjoy with the people you love. Passion for a career is a wonderful thing and it happens almost never. For the rest of us work is just that – work. But love, the kind of love that happens when you are young, when you have never loved another, when you love until you ache and can't believe they feel the same because no one else on earth has ever felt this much love and all love stories – Romeo and Juliet, Antony and Cleopatra – pale at its feet, that kind of love happens to many, many of us, but only when we're young, and only once. To throw this away for a job is to slap the face of God.
What I mourn in this generation is their inability to believe in the strength within them. The muscle is there, but never tested. If they really believed in love, if they could get past all their rationales and their cynicism and really commit, they could do what we did: face down hardship and separations, poverty and bad health – everything life throws at us – and make their love last.
Perhaps it's simply the choice of words that clouds their vision. Our generation didn't have careers, we had jobs. We worked hard during the day, and then went home to the love of our life – in our opinion – the passion of our life. Love does not preclude a career and often it enables it, but my husband and I have never regretted choosing ordinary jobs with ordinary pay because our nights and weekends have been filled with extraordinary joy. People gain jobs and lose them. People sacrifice for careers and never make it. You cannot plan your life. But you can plan who you will spend it with, and as life goes on you learn, it is the only choice that matters.
This essay was first published in The National Gallery of Writers http://galleryofwriting.org/