A Solitary Walk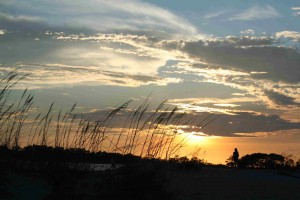 I have three small groups of friends. These are close friends, dear to my heart, but ask any one of them what faith means, and their answers will be distinctly different.
The first group sees miracles, God's hand, in everyday things. He reveals Himself in a hibiscus flower grown into the shape of the cross. Shadows on ancient stone floors become faces of the dead. They get shivers or a deep sense of peace. It is a comforting and heartening belief.
Another group sees rules: fasting on Holy Days, confession before communion. They go to church every week, some of them every day, and urge their children to set examples, to express dismay if their friends stray. They believe this is their duty.
The third group of friends have either lost their faith or are drifting in that direction. They are disillusioned with organized religion and perhaps this is why their beliefs are fluid. They see each situation as unique: what's wrong in one case may be right in another. They have accepted their children's decision to live with a significant other because love and commitment are their bottom line. They believe in live and let live.
We all search through the same questions, but no matter how tightly we hold to our convictions, it is impossible for any of us to really know the answers. All we can do is take our best guess. But as disparate as my friends' beliefs are, it seems to me they must all, in some elemental way, be correct. Because they have all found their truth, their meaning, their way. They are each, unequivocally, moral. None would pass by a person in need. They are all capable of sacrifice. Some of their beliefs cause them great pain but they never waver, believing theirs to be the moral, and therefore only, stance.
It is our nature to want a clear and definitive answer, but sometimes the truth doesn't lie in the black or the white, it is found confusingly, irksomely, in the gray. And though we may debate and wonder and shout at each other, our spiritual journey is, in the end, a solitary walk. We must find our own way through the haze.
As for me, I believe that tolerance and reason, courage and integrity, sacrifice and hard work keep us on the right track. But most of all I believe in love – unselfish, spontaneous, and open-armed. The kind of love that leads you through the haze and confusion and leaves you standing in open air, holding someone's hand, even if the only thing you can agree upon is that you care.